Brussels, 24 June 2022 – As part of the celebrations of International Self-Care Day 2022, AESGP invites everyone to enrol in the Self-Care Summer School. Rolling out from June 24 to July 24 on AESGP social networks, this campaign encourages everyone to take a step forward and become a self-care ambassador, following tips and tricks to practice self-care responsibly and with confidence.
The International Self-Care Day (July 24) is fast approaching.  This year, AESGP is celebrating it by launching a new edition of its International Self-Care Day campaign (#ISCD22) dedicated, this time, to helping people practice responsible self-care.
Self-Care Summer School: Become a Self-Care Ambassador with AESGP!
Self-care is what we do every day as individuals to be and stay healthy. It is also a fundamental pillar for the sustainability of health systems. In fact, self-care has never been more important. The COVID-19 pandemic has shed light on the vulnerabilities of our health systems and has led many people to increasingly take charge of their own health[1].
Because learning to take care of yourself is not something you have to do without support, AESGP is launching a Summer School to provide advice and solutions to practice self-care with confidence, in a funny and interactive environment. The Self-Care animated characters of AESGP are glad to be back with tips and challenges to improve your self-care performance.
Broadcast on Twitter and LinkedIn between June 24 and July 24, under the general campaign hashtag #ISCD22, the campaign will be divided into three theme-courses covering important aspects of self-care:
Basic level: Cover Your Back: Self-Care for Health Promotion and Disease Prevention
Intermediate level: Go Further: Develop Your Health Literacy and Good Habits for Responsible Self-Care
Expert level: Self-Care Is Good for You and for All of Us
The campaign will also offer followers the chance to test their self-care knowledge and reveal their inner self-care ambassador. Tempted? Do not miss a thing!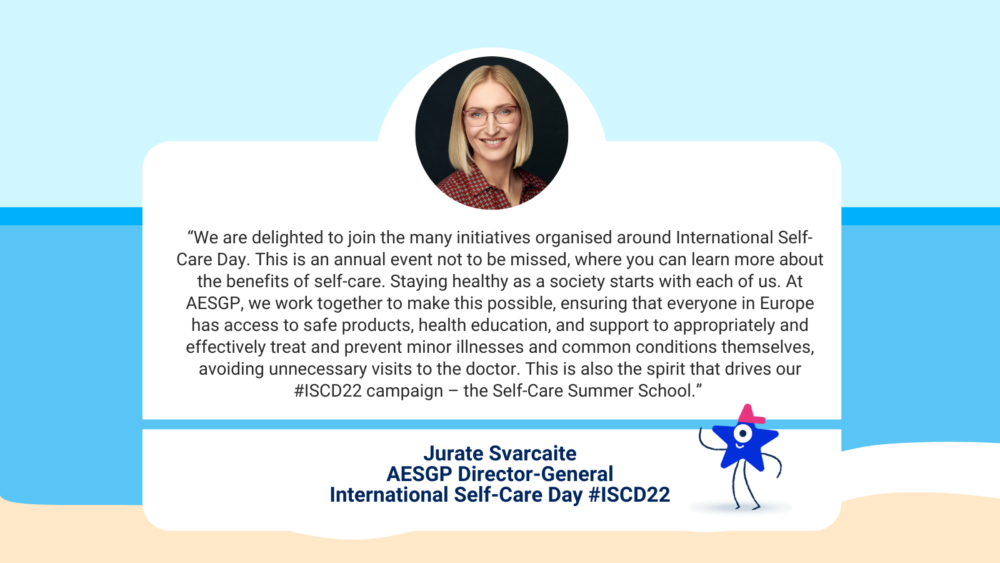 Notes
[1] This was the focus of AESGP's International Self-Care Day 2021 campaign. Read more about it.
Documents